Who are the Wizards?
Mixed. Competitive. Fun.
The Wizards are a diverse group of players united through the game of ultimate frisbee. The Wiz offers players at all levels of experience a great reason to put on their sporty clothes one or more times a week. Whether your dream is to play some Ultimate once a week, or you aspire to raise your game and make the Swiss youth or adult national teams; our trainers and fellow Wiz teammates will help you reach your potential. Even if your goal is to win the party.
Annual reports
Everything you could ever need to know about what the Wizards do!
Newsletter
Monthly updates on the club's activities (in French).
January 2020
December 2019
For new players
Thinking of trying ultimate frisbee with the Wizards? Here's what you need to know.
Check out our introduction to the sport.
Become a member
Want to join? Here's all the information you need to become a member of the Wizards.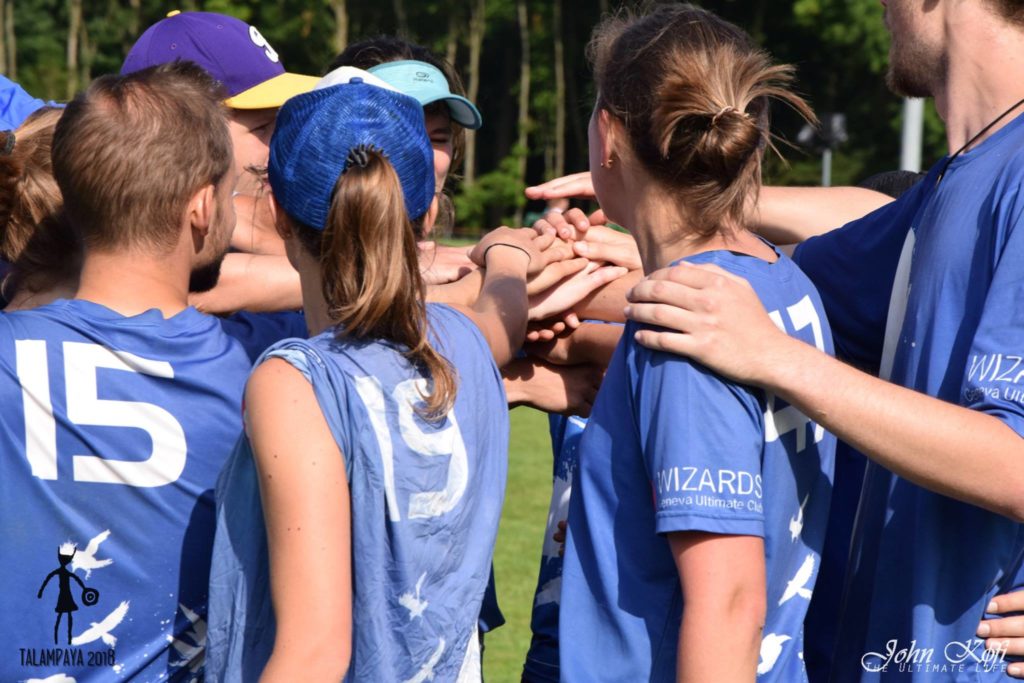 Practice and classes
We run practices all year round, outdoors during the summer and indoors during the winter. New players are always welcome to join!
We have an active programme for juniors aged 10 years and above. In partnership with the Département d'instruction publique, we provide ultimate frisbee courses for primary schools throughout the Canton of Geneva.
We're always interested in partnering with schools, clubs, scout groups and anyone else that wants to try out ultimate frisbee! Contact us at info@wizards.ch to find out more.
Our teams
Our two mixed teams – WizMixed and KiWiz – and our open (men's) and women's teams take part in the Swiss ultimate frisbee championships and other tournaments during the year. We're working on developing a juniors team too to ensure the next generation of Wiz.
We're very proud to have taken part in the World Ultimate Club Championship in the mixed division in 2018. For one week, we were playing with the top 48 mixed clubs in the world in Cincinnati, USA. Read all about the adventures of the Wiz @ Worlds.
Our tournaments
Since 1988, we have organized Talampaya, which has become one of the biggest mixed ultimate frisbee tournaments in Europe. Every year, teams from different countries gather during the Pentecost weekend for three days of frisbee, fun and friendship.
From 2012 to 2016, we organized Ex on the Beach, the only beach tournament on the Lac Léman!
Our history
The Wizards is an association founded in Geneva in 1984. One of the oldest clubs in Switzerland, and the only ultimate frisbee club in Geneva.
See this video clip about the Wizards from RTS from 1985. As Ingeborg says, footage from the 1980s never disappoints!
Our Ultimate friends and neighbours
Our partners in Geneva
Thanks to all the great people that make our club life so much easier!
Contact
Please contact us at info@wizards.ch with any questions or for more information.