We are the Wizards, ultimate frisbee club in Geneva
Mixed. Competitive. Fun!
Come and play ultimate frisbee. A mixed-gender, self-refereed, no-contact team sport.
It's technical, tactical, physical. And fun. Check out our introduction to the sport.
What do you want to do?
Find for ultimate frisbee classes for children
Get information for new players
Connect with the Wizards on Facebook and Instagram

Juniors & Adults Beginners classes – May 2021
During the month of May we are organising two beginner classes, for juniors and adults, a great opportunity to discover ultimate!
Where: Cycle d'orientation de Montbrillant, gymnase, Salle A
When: on Mondays, May 3rd, 10th, 17th and 31st (the 24th is a holiday).
Who: girls and boys

6pm to 7pm : U14 (born in 2008-2009-2010)
7pm to 8pm : U17 (born in 2005-2006-2007)

Cost: 30 CHF including a frisbee.
Where: Centre Sportif de Vessy
When: on Thursday, May 20th, 27th, and June 3rd.
Who: women and men, 16 years old or older.
Cost: 30 CHF including a frisbee.
We are looking forward to introduce you to our amazing sport!
Practice restart – April 2021
Here is the practice calendar as of April 8th, 2021.
Juniors (born in 2001 and after): normal practices in Montbrillant and Vessy.
Adults: outdoor practice in Vessy following the usual calendar.
We are allowed to have 4 groups of 15 players maximum, so registration is mandatory. Contact us for more details.

Mandatory rules for adults:
No access to changing rooms.
Mandatory wearing of masks at all times when inside the fenced part of the sports centre.
Masks can be taken off only during practice and only if the 1,5m distance can be respected.
Only players in good health conditions and with no symptoms are allowed to participate.
The Wizards in 2019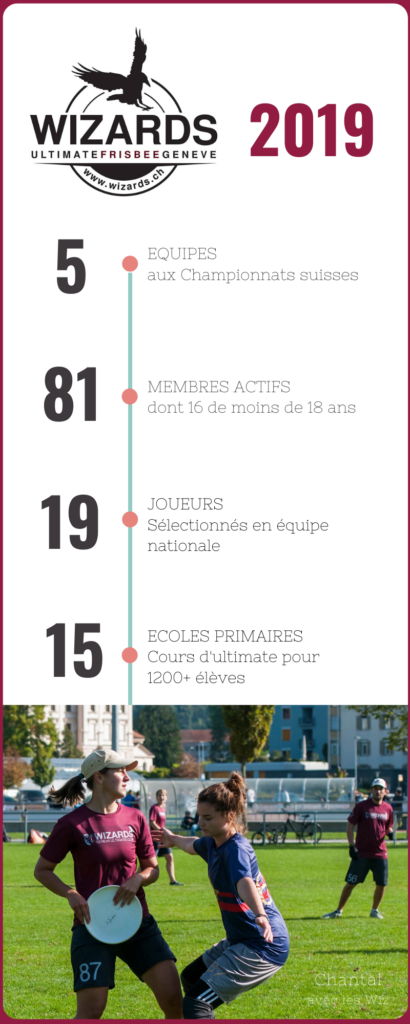 Find out about ultimate frisbee
Questions? Comments? We'd love to hear from you.