Organized by the Geneva Wizards, Talampaya is one of Europe's longest-running mixed ultimate frisbee tournaments.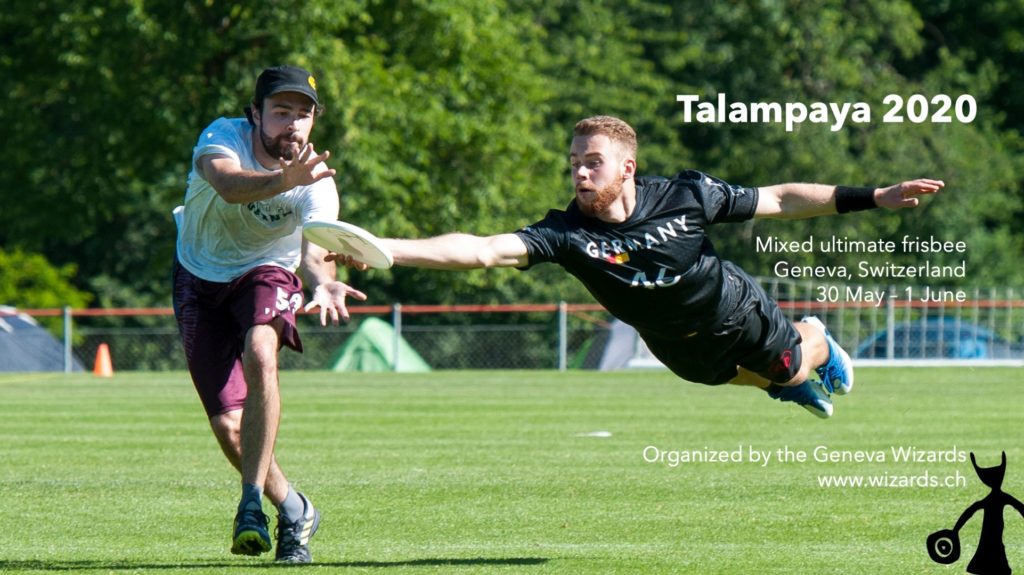 Dates and venue
Talampaya 2020 will take place on 30 May to 1 June 2020 at the usual venue, Centre sportif de Vessy, Geneva, Switzerland. 8 grass fields and 4 turf fields available for 3 days of ultimate and fun.
Two divisions at Talampaya 2020
Talampaya 2020 will for the first time have two divisions: "Elite" and "Ultimate lover". Why? To guarantee a maximum of games between well-matched teams.
The "Elite" division is for national teams and high-level club teams, for example that have taken place in major championships. Games will be 90 minutes, with at least 6 matchs per team during the weekend.
The "Ultimate Lover" division is for everybody else! Teams that want to come and play competitive ultimate at a high level, with a focus on creating a fun experience. Games will be 45 minutes, with at least 8 matchs per team during the weekend.
Teams should indicate their preference for the "Elite" or "Ultimate Lover" division at the time of registration.
What you get
On-site camping
Breakfast on Saturday, Sunday and Monday
Dinner on Saturday and Sunday evening
Welcome snacks on Friday evening
Saturday night concert
Sunday's famous themed costume party
Access to showers and locker rooms
Registration
Registration will open shortly!
Accommodation
On-site camping is free of charge. Bring your tent!
Other accommodation options may be added in due course. Contact the Talampaya organizers to find out more.
Travel
Address
The address is Centre sportif de Vessy, Route de Vessy 29, 1234 Vessy. Here's a Google Map.
From the airport
It takes about 50 minutes to get from the airport to the Talampaya venue by public transport. There are various options and routes.
Pick up a free 60 minute ticket from the TPG ticket machine just before you exit the luggage reclaim area.
The 11 and 21 buses will bring you pretty close to Talampaya. Get off the bus at the "Bout du Monde" stop, then walk about 10 minutes. Check the TPG.ch web site for route planners and timetables.
By car
There is limited car parking available at the venue.
Contact
Facebook: www.facebook.com/talampayaGVA/ 
E-mail: talampaya@wizards.ch